DAKAR Mekano embodies the perfect balance between quality and price in the world of the table saws. They can cut any material:
bricks
tiles
kerbstones
granite
marble
roof tiles, etc.
They offer top performance at the job site, cutting pieces up to 650 mm (25") long.
The models DAKAR Mekano and DAKAR 400 Mekano have removable legs, but they can be optionally fitted with folding legs and transport wheels.
The DAKAR Mekano 45 shares the capacities and cutting accuracy of all DAKAR models, but it adds
the possibility of performing 45º bevel cuts, as well as to swinging the cutting head to the desired depth of cutting. Extremely versatile, its cutting length can be modified as well, by moving the head arm alongside the frame, to best adapt to the cutting distance
It is 90% made of stainless materials. The remaining 10% is coated with an anti-rust epoxy-polyester paint. The legs and head are removable making it easier to transport and move the machine on site.
Therefore, it is very easy to handle, facilitating the operator task and reducing the operation time.
90º and 45º cuts in large size pieces:
Excellent value for money.
Available in single-phase versions (3 Hp) and three-phase versions (4 Hp), to match every need.
Adjustable height (DAKAR MK 45) to allow cutting different thickness using the appropriate blade.
Maximum cutting depth is 75 mm (3") for Ø300 mm (12") blade and 100 mm (4") for Ø350 blade (14").
All DAKAR models are supplied with a diamond blade included.
Adaptable blade height and able to bevel cut at 45º (only DAKAR 45 MK).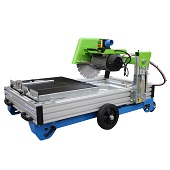 Folding legs and wheels (Optional for DAKAR Mekano and DAKAR 400).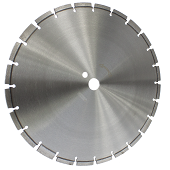 Ø350 or 400 mm blade included depending on model.
| Max. Blade diameter (mm) | 350 |
| --- | --- |
| Max. cutting depth (mm) | 100 |
| Max. cutting length (mm) | 650 |
| 45º Cutting | Yes |