COMBI Range is specially recommended for rebar production in small – medium housing or infrastructure projects with rebar sizes of up to Ø36mm / 1 3/8 " (#11) for cutting and Ø52mm / 2″ for bending, such as small resorts, condominiums, villas, low height apartment buildings, etc. A multi-purpose machine which also allows production of stirrups, spirals and hoops with its optional accessories.
The COMBI range is an ideal solution for small to medium rebar contractors and manufacturers, providing full working autonomy in any rebar work, and at a very low cost.
One machine, a single investment to do all rebar jobs with a medium production: bending, cutting, stirrups and spirals / hoops.
COMBI machines have the same production and bending capacities as our DEL range benders.
They are also featured with the same electrical and mechanical safety devices as DEL machines and its electric components are of worldwide known top quality suppliers as Schneider-Electric.
Cast-iron shear body and gearbox case to ensure heavy duty performance and endurance with the lowest maintenance. Oil bath, trapezoidal and helicoidal gears.
Safety shield with limit switch on shear body and bending table.
Easy low-cost maintenance can be even performed on site by the machine operator.
Single-phase 220V version with inverter technology available for model COMBI 25/32. The inverter stabilizes the electric supply so it makes the motor life longer. Two speeds motor available upon request on models COMBI 25/32 and COMBI 30/36.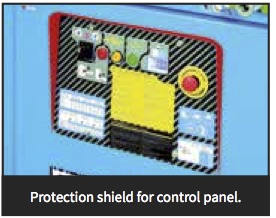 | Max. Cutting Ø (mm) | 25 |
| --- | --- |
| Max. Bending Ø (mm) | 32 |
| Power | Electric |